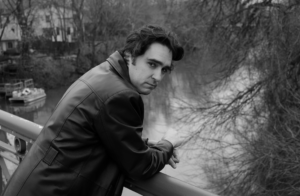 Hi, folks. Andy Pratt here.
As a child of the '90s, I grew up with cassettes and CDs. I remember when you could go to Tower, Virgin, or Borders and, if you had $20 to spend, you had a few choices.
You could buy one CD, two cassettes, or a few singles. I often opted for two cassettes. I just got more music that way, even if some of the tapes ultimately melted in my Pontiac. Those days are pretty much over, but I still listen to tapes (and vinyl) and consider myself a part of the analog rebellion.
In July of 2016, I had the good fortune of going into Electrical Audio on Belmont to record an album with engineer Steve Albini. With my core band – myself (vocals/guitar), Joe Policastro (bass) and Mikel Patrick Avery (drums)- we recorded eight songs featuring the string players of Quartet Parapluie.
My plan was to release the album on cassette and CD, the formats of my formative years. But when I walked out of the studio, carrying boxes of tape reels, I knew that it would be a shame if I didn't press this music to vinyl. So I released Horizon Disrupted on all three: cassette, CD, and vinyl LP.
On Thursday, August 31st, I'll be performing at Café Mustache in Logan Square with violinist Andra Kulans. We will be playing music from Horizon Disrupted and beyond. After a season of release shows and touring with mostly larger ensembles, I'm excited to play this intimate duo performance at one of Logan Square's most unique music spaces/bars. The show starts at 9pm and is free with a suggested donation of $5. Vinyl, CDs, and, of course, cassettes will be available.